Timeline of Georgia Masonry and Chamblee-Sardis Lodge:
1733-4 Lodge at Savannah, later called Solomon's Lodge, warranted by the Grand Lodge of England
1786 Grand Lodge of Georgia created by Solomon's Lodge and others in the state
1843 Kennesaw Lodge No. 33 chartered by the GL of Georgia
1844 Pythagoras Lodge No. 41 chartered, sponsored by Kennesaw Lodge
1870 Sardis Loge No. 107 chartered, sponsored by Pythagoras Lodge
1903 Chamblee Lodge No. 444 chartered, sponsored by Sardis Lodge
1950s North DeKalb Lodge No. 714 chartered, sponsored by Chamblee Lodge
1995 Metro Daylight Lodge No. 743 chartered, sponsored by Sardis Lodge
2000 Chamblee and Sardis Lodges merge, forming Chamblee-Sardis Lodge No. 444

Sardis Lodge No. 107
Sardis Lodge No. 107 was granted its Charter by the Most Worshipful Grand Lodge of Georgia on October 27th, 1870, with the following brethren as the three principal officers: James R. Mayson, Worshipful Master; A. G. Dempsy, Senior Warden; and A. B. Grady, Junior Warden. On November 18, 1870, with a roster of 23 members, it was duly constituted by Most Worshipful Grand Master Samuel Lawrence.
James Mayson, our Founding Master, was a Methodist preacher, stationed at Sardis Methodist Church on Power's Ferry Road when the lodge was chartered; It was from this that Sardis Lodge likely took its name. Brother Mayson established and was president of the first women's seminary in Atlanta, the Atlanta Female Institute. In fact, Lindburg Avenue was formerly named Mayson Avenue, in honor of this Mayson family.
Buckhead in 1871 was very different from the place we know today. AT the time of the first Sardis meeting, the population of Atlanta was less than 20,000. The streets were unpaved, muddy ruts, and there were few sidewalks. There was no telephone, no mail delivery, and no street numbers. Transportation was the horse, and sidearms were common. In fact, lodge records report a case where a brother was dismissed from masonry for reaching for his gun during a dispute with another brother!
Sardis Lodge first met at what was known as "Grady's Hall", at Peachtree Street and Wieuca Road. In August, 1872, the lodge levied the membership to fund a building jointly with Sardis Methodist Church, where the lodge would own the upstairs, and the church would own the downstairs. In early 1874, the Lodge moved into the new space, but on March 1, 1875, the building was destroyed when the worst flood in Atlanta history, accompanied by a hurricane that struck from Howell's Ferry Road to Buckhead, razed the lot. Following this, the lodge met in a schoolhouse near the old church, while a new agreement began reconstruction of a new joint lodge-church building.
On September 15, 1903, a petition was presented, asking Sardis Lodge to recommend a new lodge at Chamblee.
On October 17, 1914, a committee was appointed "to confer with Brother J. S. Donaldson and see the best terms they can make in regards to renting or leasing the hall..." Brother Donaldson owned the building at Roswell Road and West Paces Ferry Road, the ground floor of which he leased to Minhinnett's Grocery. On May 19, 1915, Sardis Lodge moved to this location, donating their interest in the joint property back to the church.
Returns to Grand Lodge, August 31st, 1924, show a membership of 353.
In the mid 1920s, Sardis Lodge was one of the most progressive Lodges in Fulton County. In 1923, Sardis Lodge purchased a lot and erected a splendid Hall, which was well furnished. The building was erected in ninety days after the foundation was laid.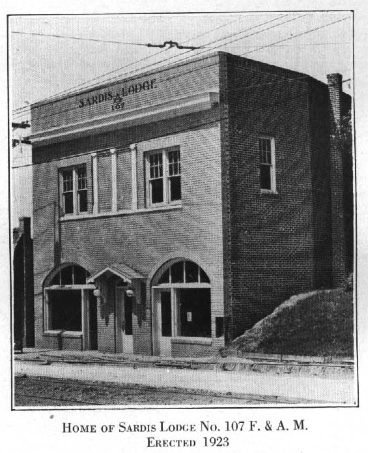 From Freemasonry and Its Progress in Atlanta and Fulton County, published in 1924, and from R. Alan Guerry's 1995 compilation.
For the full text of the 1924 writeup, click below.
Sardis Lodge: Page 68, Page 69, Page 70, Page 71 reproduced from Freemasonry and Its Progress in Atlanta and Fulton County

Chamblee Lodge No. 444
Around the turn of the century, a small community had begun to develop along the West side of the Southern Railroad, about twenty miles North-East of the heart of Atlanta, Georgia. A railroad depot, replaced only several years ago by a newer, more modern building, proudly displayed the name of Chamblee, Georgia. At that time, Chamblee - being a very rural area - was mainly a farming and dairying area, and the sunup-to-sundown theory was the accepted fact. There was no Masonic Lodge close by; the closest being Sardis Lodge, which was located on Peachtree Road, in the area known as Buckhead. There was another Lodge located at Roswell, and some of our early members commuted to and from Roswell Lodge on a little spur called the Dingy, whose narrow gauge track ended at the Chattahoochee River. Some were able to occasionally attend at Norcross, which was a small town further North on the same Southern Railroad. Community pride and a desire for a Masonic Lodge in this small country town caused a proud and stalwart group of men to band together in fraternal relationship. Consequently, on October 25, 1903, they received a Charter from the Most Worshipful Grand Lodge of Georgia. Meetings were held, so far as can be determined,at what is now known as 5394 Peachtree Road, in the only two-story building in the area at the time, constructed for the most part from homemade bricks which were molded and put in place on the spot where the building still stands.
The last surviving charter member of Chamblee Lodge was William David Wallace, who was first a member of Sardis Lodge No. 107. Brother Wallace, along with Brother R. P. Rudasill, made the following audit report on January 9, alance brought forward from 1907 was $105.45; amount received as dues in 1908 was $99.08; fees for 1908 was $80.00; rent received from the Junior Order was $9.00; paid out $123.97; leaving a balance in the treasury of $169.56. It seems as though the Lodge building back then was rented to the different organizations; the Junior Order, the Woodsmen of the World, and the Odd Fellows. Evidently, the use of the building was very much in demand at that time, as noted from the minutes of 1932, the Secretary was ordered to bill the other occupants of the building for their light bills and for the coal which was used for the years 1928, 1929, and 1930. These were no doubt crucial years for the Lodge, and had it not been for the efforts of our deceased Brother M. E. Smith, PM, and a few of the stalwarts, Chamblee Lodge's charter may not have continued. As best we can determine, Brother Smith served as Master of Chamblee Lodge for four consecutive years during this critical period.
During World War I, Camp Gordon was located across the railroad from Chamblee Masonic Lodge, thus affording the Lodge the opportunity to be of service to many of our men in the Armed Forces, some of whom are still members of Chamblee Lodge, even though they have been gone from the area since that time. One in particular was Brother Vaux Owen, who was the first fifty-year member of Chamblee Lodge. Another was Brother Charles Albert Cutler, who now lives in Beverly, Massachusetts, and received his fifty-year award on December 12, 1977. Another opportunity for service was afforded Chamblee Lodge during World War II, when Lawson General Hospital was built on the same site where the old Camp Gordon once stood, along with the Naval Air Station. We still have many of those brethren who have maintained their interest in Chamblee Lodge. Many of you will remember one of our outstanding Past Masters, Brother Claude E. Jameson, who served as Secretary of Chamblee Lodge for twenty-seven and one-half years. Brother Harold Lamar Smith, who assisted in the writing of this article, served as Treasurer for twenty consecutive years, and has been chairman of our Scholarship Committee ever since.
Over the years, Chamblee Lodge has been one of the outstanding Lodges in the State, and has had the distinction of being number one in contributions to the Masonic Home Higher Education Fund. From its small beginning in 1903, surrounded by farms and dairy cattle, and with only eighteen members, the Lodge now occupies its new building at 5556 Peachtree Industrial Boulevard, in the heart of a thriving industrial area, with an enrollment of over seven hundred members. It would be very discourteous if we failed to recognize the tremendous contribution that our founding brethren made, and also the tremendous odds they were faced with through the varying stages of their development. I have personal knowledge of the progressive activities to which Chamblee Lodge has subscribed during the past thirty-five years.
The Past Masters and members of Chamblee Lodge have demonstrated their love for the Masonic Fraternity by steadily preserving in every respect the practice of the tenets of the organization. A true spirit of brotherly love and fellowship has abounded among the Craft throughout the years. As we join the City of Chamblee in the celebration of their seventy-five years, we do so with the knowledge that four years ago a corporation was formed between the members of Chamblee Lodge and Sardis Lodge which resulted in the realization of a new building and facilities, and as we at Chamblee Lodge strive for continued success, we sincerely express to the City of Chamblee our thanks for allowing us to participate in their Seventy-Fifth Year Celebration, and wish for them the same success they have had in the past.
Recorded in 1983 by Jackie Bourne, WM, and E. Beecher Jones, Secretary